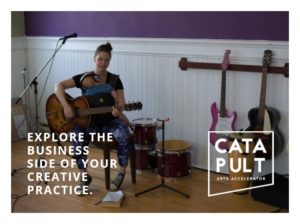 ArtsLink NB's CATAPULT Arts Accelerator gives artists the
tools to be prolific + build sustainable careers. Business skills
training, career development, workshops, and mentorship –
all in one program.
WINTER 2020 SESSION (SAINT JOHN)
March 20 to May 15 | Fridays 6-9 pm & Saturdays 9-5
APPLY BY FEBRUARY 23, 2020
Artists need the work habits that would allow any entrepreneur
or small business owner to succeed in his/her field. Good
time management. Solid record keeping and sound financial
management. Effective self-promotion and professionalization
of your brand. Telling a good story and being heard. Knowing
how to write a contract. CATAPULT is all about helping you to be
purposeful and organized about the business side of your artistic
practice.
For details on how to apply, eligibility, and program curriculum:
www.artslinkcatapult.com
QUESTIONS? Email catapult@artslinknb.com.